Sian Ka'an Village
Quintana Roo, Mexico
Seeking a life-changing vacation?
There are vacations that you remember for the rest of your life, and then there are those extra special vacations that change your life forever and deliver encounters you never imagined possible.
Sian Ka'an Village promises to be just that. The sound of silence, breathtaking colors and clear star-studded nights will become your best friends.
Words do not do justice to the experiences that await you. How do you describe something that leaves you speechless?
Sian Ka'an Village is a unique 7 bedroom 8 bathroom beachfront property located within a privileged enclave of the Sian Ka'an Biosphere, a UNESCO World Heritage Site, in Mexico's Yucatan Peninsula.
Reminiscent of a luxury safari lodge with large sunny terraces and expansive communal spaces, the tropical wood villa built on two levels is but a breath away from the Caribbean Sea where foaming white surf breaking upon the horizon gestures to the protected coral reef that lies beneath the waves at Sian Ka'an Village.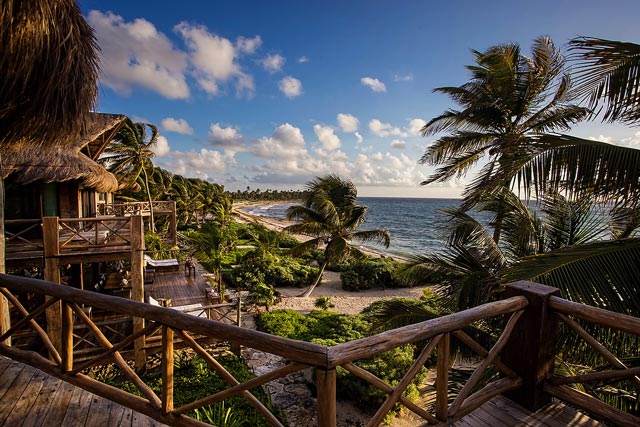 Jungle-chic meets Robinson Crusoe
Merging rustic Mexican architecture, palafitos style, luxury and comfort, the property harmonizes with its lush natural surroundings, providing an incomparable experience of jungle-chic meets Robinson Crusoe. Add to this unique image a host of optional organized activities, a chef, butler and all your food and beverages in an exclusive secluded paradise, and you are a step closer to discerning the truly indescribable Sian Ka'an experience.
With no neighbors to disturb you, this enchanting property is the epitome of rustic elegance and host to 7 cabin suites complete with stunning oceanfront views and their own distinctive charm. All cabins have air-conditioning and en-suite bathrooms with running hot and cold water to complement your escapade in nature with creature comforts.
Where the land and heavens meet, Sian Ka'an Village lives up to its name which in the ancient Mayan language means "where the sky was born" or "a gift from the heavens".
Just a stone's throw from the crystal clear turquoise waters of the Caribbean Sea, Sian Ka'an Village nestles in the seclusion and breathtaking scenery of the Sian Ka'an protected biosphere with its mangrove, lagoons, coral reefs and spectacular wildlife an hour or so from Mahahual in Quintana Roo, Mexico.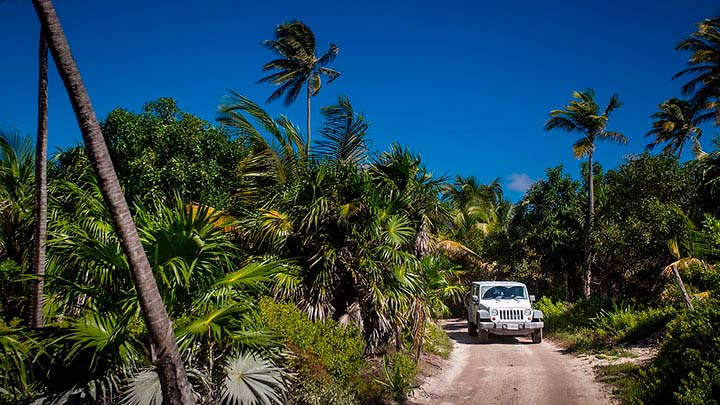 Transportation
Approximately 5 hours by land from Cancun airport, Sian Ka'an Village is best reached by SUV and Jeep type vehicles or a chartered plane. Contact us about about the most convenient ways to arrive to Sian Ka'an Village. Flights available from Mexico City and Cancun airports.
More info
Food, beverages and snacks included
Pre-arrival concierge service
Private Chef
WIFI (no cellular coverage)
All Inclusive from
$373 USD
per person, per night