Explore The Villa
A quaint blend of Mexican architecture, rustic luxury and Caribbean palafitos style make the 11,000 sqft Sian Ka'an Village property the perfect beach-jungle getaway for those adventurous paradise-seekers on the hunt for extraordinary yet sophisticated experiences.
At Sian Ka'an Village, guests lay their heads to rest on quality linens in air conditioned en-suite cabins and wake to the sound of waves on the sand and breakfast laid on the oceanfront terrace.
Enchantment in the Caribbean
This enchanting property offers 7 rustic-luxury cabin suites with Caribbean views, each with its own distinctive charm, whether that be a four poster bed, private whirlpool tub or seafront terrace. All suites have en-suite bathrooms with hot and cold water as well as air-conditioning, making your stay in nature complete with creature comforts.
Areas for Socializing and Romantic Corners
When you enter the main lodge at Sian Ka'an Village, the first thing you will notice is the magnificent yet inviting decking that overlooks the beach and the Caribbean Sea, framed by dancing palms and ambianced by the sounds of waves lapping on the cornflour-white sand. There is a quaint bar area and large solid wood dining table that is perfect for breakfast and lunch, flanked by sun loungers and hammocks. From there, you can pass directly to the beach, barefoot and free, to where a number of loungers with palapa umbrellas await, offering more areas for relaxation and sun worship.
The main lodge building connects all the suites on both the ground floor and upper level of the property by sheltered open-air passageways, like the nucleus of some exotic sea anemone. On the second floor, the Grand Salon with its magnificent palapa roof spans approximately 1,940 sqft, opening to more terraces for lounging and stargazing.
The Grand Salon is a luxurious games-room and social area featuring a long granite bar mounted on tree trunks, a large circular dining table that seats between 12 and 14 guests whose glass top rests upon the roots of a once impressive tree plus an additional granite-topped tree trunk table that can seat a further 4-6 guests. There is also a chill out area with cushion-laden sofas, a flat screen TV and coffee table.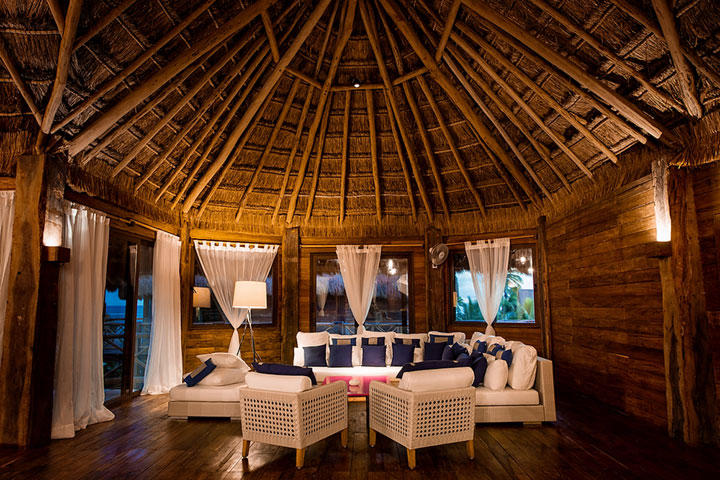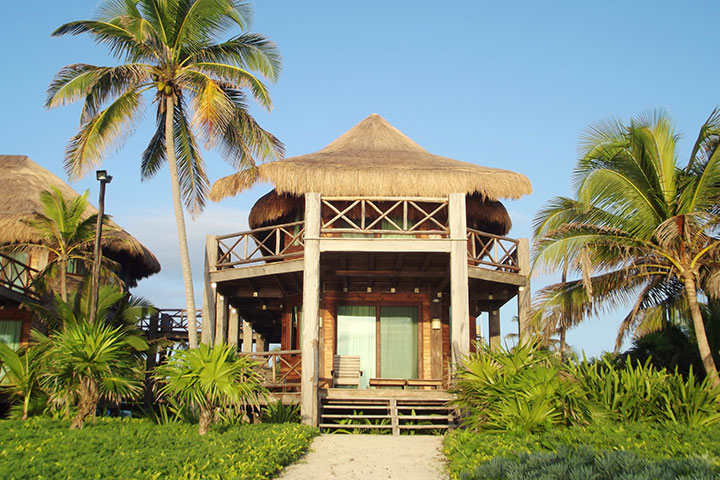 1,025 m²/ 11,025 sq ft
7 Cabin suites with double beds (2 with whirlpool tubs, 3 four poster, 6 oceanfront)
Bathrooms
Sleeps 14 (Max 18)
Large, oceanfront ground-floor terrace with dining for 18, bar and sun loungers.
Grand Salon and terraces on the first floor with palapa roof, dining for 18, sofas, bar and entertainment center.
Kitchen
2 Bars
Stunning private beach
Palapa umbrellas on the beach and loungers
Hammocks
Landscaped tropical gardens
Parking
Air-conditioning in enclosed rooms
Flat screen entertainment center for DVDs and karaoke
WIFI (no cell phone coverage)
Separate living quarters for staff
Harmonious Sustainable Architecture
With the intention of harmonizing the property with its lush natural surroundings, the architecture is organic in essence, with 98% of its construction in wood and other materials from the region. All the wood used to build the Sian Ka'an Village is durable tropical hardwood from the Yucatan Peninsula, especially chosen for the climatic conditions in Sian Ka'an as well as to complement the natural environment within this protected biosphere.
Food, beverages and snacks included
Pre-arrival concierge service
Private Chef
WIFI (no cellular coverage)
All Inclusive from
$373 USD
per person, per night