Inspiring change through his thought-provoking artwork, multimedia artist Alejandro Durán has literally taken trash and turned it into treasure.  Originally from Mexico City and currently based in Brooklyn, New York, Durán's project Washed Up takes the international debris that washes ashore along the coastline of Sian Ka'an, located on the Caribbean in Mexico, and creates environmental installations designed with plastic garbage which are then photographed.  His work has been on exhibit in several galleries and has garnered attention and praise from several prestigious media sources including National Geographic, ABC News and the Huffington Post.  
Art in the Sian Ka'an Biosphere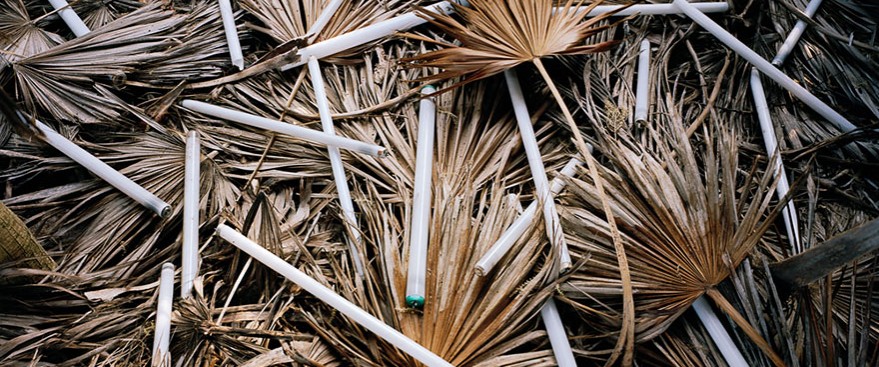 Durán has traced the origins of the plastic waste he uses in his installations to fifty-three nations and territories on six continents and counting.  This garbage has all found its way onto the shores of the coastline of Sian Ka'an, which is Mexico's largest federally protected reserve and an UNESCO World Heritage site.  He uses this international rubbish to produce site-specific sculptures, employing various items within the same color family for impact such as shoes and bottles.  His sculptures imitate items found in nature such as algae, fruit, rivers, roots or waves to make a statement about the invasion that the environment has experienced by plastics.  
Trash Sculptures
Upon first glance, his sculptures are a beautiful sight to behold, yet upon further inspection, they make it clear that the ocean is faced with a horrifying problem: an abundance of unwanted plastics.  The purpose of his installations runs so much deeper than making surreal artwork; he is hoping to change the way we look at plastics and spark a conversation about our disposable culture.  
His photo series highlights the serious predicament the consumerism of modern society has created.  It is especially disturbing when you realize that this garbage has been washing ashore upon undeveloped land in a federally protected reserve, making it clear that almost no place on earth is safe from the negative impact it is causing.  The Washed Up project in Sian Ka'an isn't just altering a landscape that has been filled with unwanted plastic trash; it aims to raise awareness about our complicated relationship with consumption and hopes to change how we deal with waste.  
You can learn more about the Washed Up project and get involved by visiting Alejandro Duran's website.