Originally from the Mexican state of Michoacán, today the face of Sian Ka'an Village, Margarito Zamora Cardenas awaits your arrival like a shipwrecked pioneer amidst the lush tropical mangroves of the Sian Ka'an Biosphere on Mexico's Caribbean coast.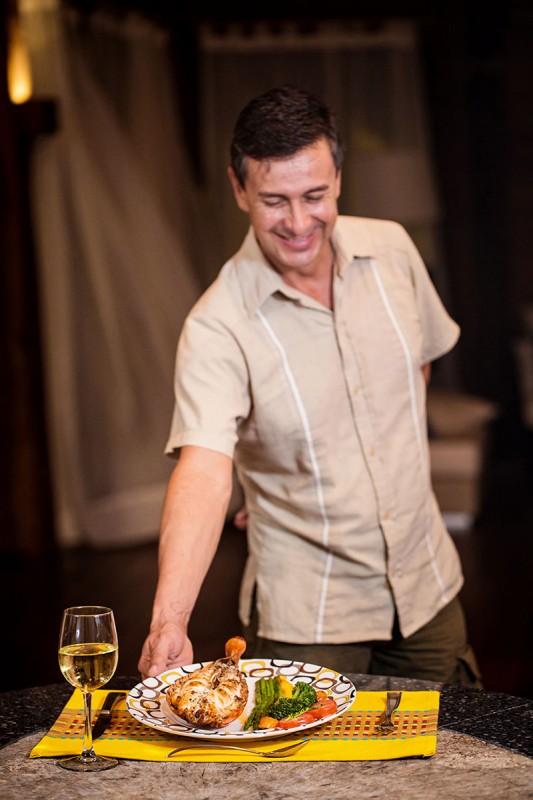 With a glowing background in hospitality, having worked for more than 20 years in fine hotels and first class cruises, Margarito brings a wealth of experience from years serving VIPs and lifestyle connoisseurs. During his time as butler at the Hotel Le Blanc in Cancun and as the only Mexican butler serving the Presidential Suites on Celebrity Cruises, Sian Ka'an Village's housekeeper and manager attended a wide variety of renowned figures such as George Bush Sr. during his presidency, singer Diana Ross and the Chilean philanthropist Leonardo Farkas, in addition to various Mexican and international celebrities.
Since March 2014, Margarito has been tailoring the services of Sian Ka'an Village to the needs of our exclusive guests who come to the property in search of bucket-list experiences and unrivalled memories. "This is the most important challenge of my life," comments Margarito, "what I really want is that Sian Ka'an Village is recognized as the most beloved tropical-wood palace in the whole of Mexico." Indeed, the property that is like a safari mansion made from local tropical wood offers a palatial experience where you become monarchs of the Caribbean under the shade of coconut palms.
A Day in the life in Paradise
When Sian Ka'an Village is filled with the sounds of guests enjoying its stunning beauty, Margarito's mission is to be available from the minute you wake in the morning to the moment the last one of your party goes to sleep at night. With his perfect English and Spanish, he is there to answer any questions, tend to any request and make sure that everything in paradise is running smoothly. Such a smooth operation is not, however, a one man show, Margarito leads a team who have also dedicated their lives to the serenity and beauty of Sian Ka'an Village, one big family taking care of the tropical-wood village that brings so much pleasure. "There are no bosses here, we are a family," shares Margarito about his team at Sian Ka'an Village.

Life-changing Challenges
Those who have had the privilege of staying at the Sian Ka'an Village in the heart of the UNESCO protected biosphere on Mexico's Yucatan Peninsula will know that taking charge of the property is no small feat. Like maintaining a Spanish galleon from the Golden Age, the "tropical wood palace" requires tender love and care on a daily basis to keep its natural beauty shining amongst the mangroves and swaying palm trees. Its unique location, secluded from the trials and cellphone signals of daily life make for a tempting vacation destination, yet requires a certain type of person to remain at its helm. "The first thing I had to do when I arrived was to integrate myself with the local team" Margarito confesses, "living in such seclusion, albeit paradise, is a psychological challenge, but I am in love with the place."
Join us at Sian Ka'an Village for a vacation that will break the mold of experiences, enjoying the hospitality and charm of Margarito and his team in paradise.