Fishing tours are one of the most popular activities to enjoy while on vacation in the Sian Ka'an Biosphere on Mexico's Caribbean coast, second only to diving and snorkeling. Like scuba diving, fishing tours are highly regulated within the UNESCO protected biosphere to preserve the marine life and the balance for which the area is famous. Nevertheless, it is possible to enjoy some amazing fishing experiences while staying at the Sian Ka'an Village, most of which can be organized leaving from Mahahual or arranged on your behalf by the staff at Sian Ka'an Village when booked in advance.
Fishing Tours from the Sian Ka'an Biosphere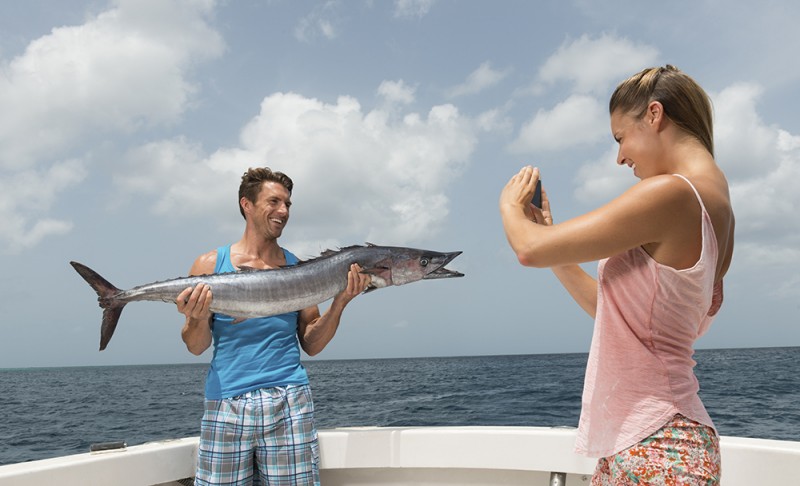 There are a number of fishing tours to enjoy in the Sian Ka'an Biosphere. Local fishing tours leave from Mahahual and there are a couple of excellent fly fishing tours to be had at Banco Chinchorro and Ascencion Bay.
The fishing tour at Banco Chinchorro is a stunning day out where you will fly fish in a beautiful lagoon within a ring-shaped coral reef that is some 22 miles (35 kilometers) from the coast. Here you have the chance to catch barracuda and mahi mahi as well as see golden iguanas and salt water crocodiles. Fishing tours to Ascension Bay are another option for saltwater anglers visiting the Sian Ka'an Biosphere. At Ascension Bay you will fish surrounded by mangroves and miles of turquoise flats. Common catches include jacks, tarpon bonefish, barracuda and permit.
For more information about fishing tours, click here to see Sian Ka'an Village's special fishing packages.